Here is a List of Languages AdSense Supports presently in 2018. Below are the lists of AdSense Supported languages. The primarily language can be one of these to participate in the AdSense Program. Sign Up for AdSense if your website's primarily language is given below.
You must read Google AdSense Earning Totally Depends on 5 factors to boost your Earning. Besides this you can also Boost your Earning with Page-Level Ads. Now Google Adsense offers Google adsense auto ads.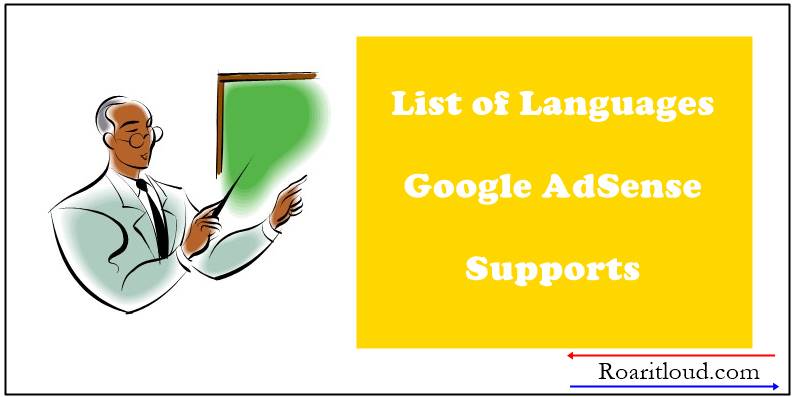 Before Applying for AdSense Program you also must read Why Google AdSense Rejects your Website Application?
When you Apply for Google AdSense, they ask you for primary language during the application process. Select your primary language, one of the mentioned below.  If you're approved, AdSense will serve relevant ads to your pages in the appropriate language. Even if your site contains multiple supported languages.
List of AdSense Supported languages are:
Arabic
Bengali
Bulgarian
Catalan
Chinese (simplified)
Chinese (traditional)
Croatian
Czech
Danish
Dutch
English
Estonian *
Filipino
Finnish
French
German
Greek
Hebrew
Hindi
Hungarian
Indonesian
Italian
Japanese
Korean
Latvian
Lithuanian
Malay
Norwegian
Polish
Portuguese
Romanian
Russian
Serbian
Slovak
Slovenian *
Spanish
Spanish (Latin American)
Swedish
Tamil
Telugu
Thai
Turkish
Ukrainian
Urdu
Vietnamese
Google AdSense supported Languages are defined Above. Hope you find this helpful.
NOTE: Presently AdSense Program Policies does not allow you to place the AdSense Ads on  pages whose content language is not in theAdSense unsupported language.
You can also visit the Google AdSense Support Page for list of AdSense Supported Languages.
Follow these recommended steps before applying for Google AdSense.