How to Create Blog on blogger for free? In this article you will learn how to create blog with blogger. After all it's an easiest way to create a blog for free. In order to create your own blog, you have to follow these two easy steps to create free blog on Blogger.
Certainly, over past few year blogging emerges as a new Way To Earn Money Online. Obviously, now everyone wants to create a Blog (in fact you too). In this post I will especially guide you about How to Create Blog on Blogger.
Why blogger Blog?
Fortunately because its free of cost to use blogspot to write blog.
Create free blog on Blogger enables you to Apply for Google AdSense from Blogger directly. Do these recommended steps to Get AdSense Account Approval easily.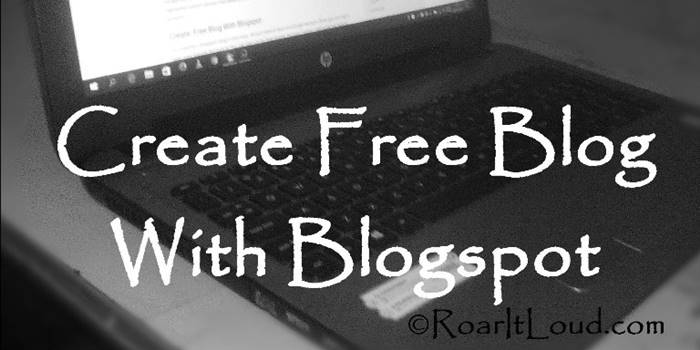 However, creating Self-Hosted Website using CMS (like WordPress) may warm your pocket enough, specifically Buying a Domain Name and Web Hosting from the Best Web Hosting Companies may charge you. Peoples may afford to Buy Web hosting and Domain Name to create a Self-Hosted Website but most of them cannot afford it. And keeping this in mind they want to create a free blog for them.
So I will guide you How To Create Free Online Blog website With Blogspot.
How to create Blog on blogger?
Blogger is a blog-publishing service that allows multi-user blogs with time-stamped entries. Earlier, Pyra Labs developed the Blogger and later Google bought the Blogger in 2003. Generally, Google hosts all the blog in their sub domain of blogspot. Moreover you can either use default address  or  you can use registered custom domain like www.example.com. Blogger also allow the user to create 100 blogs per account.
List of steps How to create blog on blogger
Log In to Blogger.com with your Google Account.
Select 'New Blog'.
Enter 'Title' for your Blog.
Enter 'Address' of your Blog.
Select 'Template'.
'Create Blog'.
Congratulates for your Free Blog.
As the Sign up process for the Facebook is simple, similarly, creating a Blogger Account and free blog is also simple. You must have at least one Google Account to start with Blogger. Either you can Log In with your existing Google Account or You can Sign Up Google Account for free. Further, I will guide you How To Create Free Blog Website With Blogger.
Log In to Blogger.com with your Google Account
You have to log in with your Google Account in Blogger.com as Blogger is a part of Google so you can login with Google email id.
Click 'New Blog' to create a free blog
After Logging In Blogger Homepage will open and as you want to Create a new blog just Click 'New Blog' . On click the Button 'New Blog' a wizard will open(See picture Below) and you have to Fill the given Fields.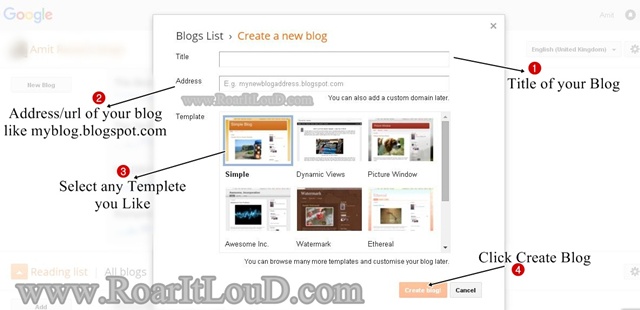 title That will be your Title of your Blog. For example, 'Roar IT Loud'
address It should be unique and It will be the address or URL of your Blog. For example , http://mybloggy99.blogspot.com/
template It is the theme of your blog that how your blog will be display. You can also Change the Template and select any blogger template provided by Blogger. Or upload your desired template by uploading the blogger template .xml file.
Create blog After filling up the above fields you have to click 'create blog'. If your Address is Available in blogspot you will be redirected to the blog dashboard. And if it says that – 'Sorry, this blog address is not available.' than you have to try something unique address.
Congratulations! You created a free blog Successfully with Blogger.com