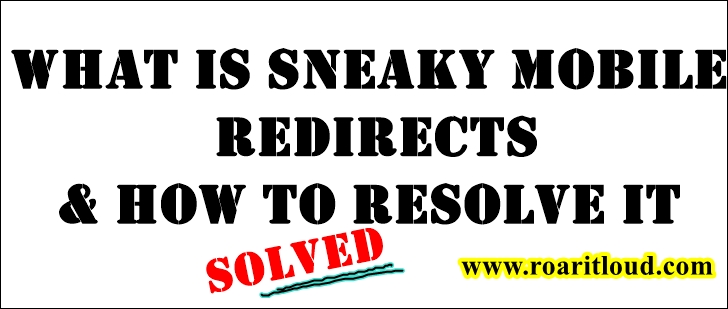 Google already warned the webmasters for redirecting the users to some other content. Unwanted Mobile redirecting is mostly occurred due to the JavaScript used by publishers to monetize their site. I know you are also facing this problem after getting a mail from Google which says 'Sneaky mobile redirects detected on your Website'. In this post you will find What you should do and how to resolve Sneaky Mobile Redirects.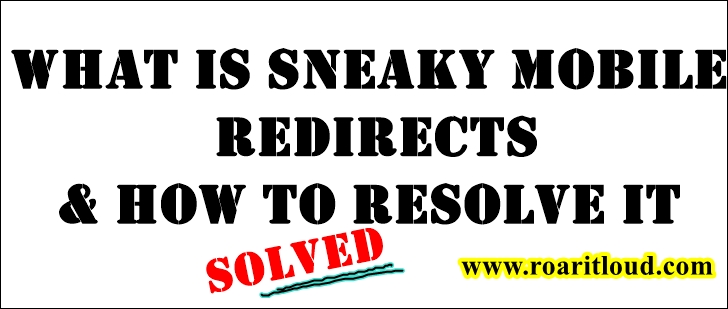 What is Sneaky Mobile Redirecting?
Sneaky mobile redirects usually occur and seen when a site redirects the users on a mobile or smartphone devices to some other content not made available to a search engine crawler. These types of sneaky redirects are counted as the violation of Google Webmaster Guidelines. Google Search Quality team can straight away take action on such sites those who are indulge in this practice of Sneaky Mobile Redirects which includes removal of URLs from Google Search Engine Index.
Google Allows to Optimize content for Smartphones Screen
As I told you that Google restrict webmaster to show some other content by redirecting the user to other site. But, in many cases, its okay to show slightly different content on different devices. For an example, webmasters are allowed for optimizing for the smaller space of a smartphone screen can mean that some content, like pictures or images, need to be modified. Similarly, for mobile-only redirects, redirecting the mobile users to improve their mobile experience. For example, redirecting mobile users from https://roaritloud.com to https://roaritloud.com is often beneficial to the users. For another example, facebook.com is redirected to m.facebook.com when user uses a smartphone mobile, which improve their mobile experience.
Google Do not Allows for Sneakily different content
Redirecting mobile users sneakily to different content is bad for the user experience. Also, this is against the Google Webmaster Guidelines and these sneaky redirects are counted as the violation of Google Webmaster Guidelines. For example, the same URL shows up in search result pages on desktop and on mobile. When a user clicks on this result on their desktop computer, the URL opens normally. However, when clicking on the same result on a smartphone, the user is redirected to an unrelated URL.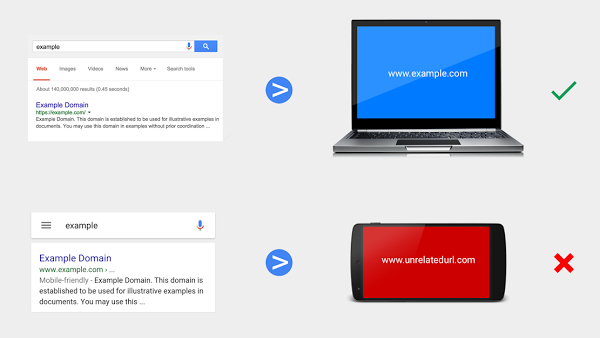 When sneaky mobile redirects occurs
Sneaky mobile redirects can be created intentionally by the site owner, but in many cases google also seen the situations where mobile-only sneaky redirects happen without the site owner knowing. The following are the examples of configurations that can cause sneaky mobile redirects:
Adding code that creates redirection rules for mobile users
Using a script or element to display ads and monetize content that redirect mobile users(Like Bidvertiser)
A script or element added by hackers that redirects your mobile users to malicious sites.
Detect sneaky redirects on your site
Check if you are redirected when you navigate to your site on your smartphone. The best way to check and detect sneaky redirects on your site is to visit your site from a smartphone by searching your site in google search engine. Use Opera-mini browser to open your site because mostly people use this browser to search and the effect of Sneaky Mobile Redirects is clearly can be check with this browser. If your site is redirected to some other site or your store opens like Google Play store that means your site have suspicious code which results in mobile redirecting.
How to remove sneaky mobile directs from your site
Check the Security Issues tool in Search Console to see if Google has detected any problems on your site. If your site has been hacked, review our guide for hacked sites.
Recheck the third-party scripts/elements on your site. If your site is clean and not hacked, then you should take a time to check the third-party scripts. Which are causing the redirects.
One by one remove any third-party scripts or elements you do not control from the redirecting page(s).
Check your site on a mobile device or through emulation between each script or element removal and see if the redirect stops.
If you think a particular script or element is responsible for the sneaky redirect, consider removing it from your site. And debugging the issue with the script or element provider.
Choose Trusted Ad Network to Monetize your site
Mostly mobile-redirecting is caused by the ad network when you monetize your site. One of them is Bidvertiser. I faced this problem when I placed the Bidvertiser code on my site. Surprisingly next day my site was removed from the Google Search engine. It's not like Bidvertiser is scam but it also do mobile redirecting to increase your earning. You can read my Bidvertiser Review and how to use Bidvertiser without Mobile redirecting.
Request for Reconsideration
After removing all the scripts which are causing mobile redirects you can request for reconsideration. So that your site can be indexed in Google Search Console. The following are the steps to send a Reconsideration request to Google.
Go to Manual Action in Google Search Console and select your site.
Click Request a Review.
Tell them how you addressed the specific issues like, I removed all the Ad codes etc.
'Tick' I acknowledge that my site does not violate Google's Webmaster Guidelines.
Send the Request by clicking Request a review.
Note: Google takes 1 to 3 weeks to approve or disapprove your request for review.